The son af a Liverpool cobbler and a London hairdresser, Rick was born the youngest of six children. At an early age Rick showed such talent that nearly every boy in town wanted to play in his bands. His break came as a guitarist in a skiffle rock n roll band called Theodore and the Mentors with fellow future now former Beatcomber Gary Gutfeld, and a tea-chest bass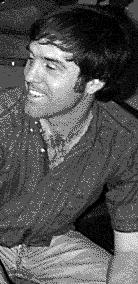 Ron Silva
drums/vocals
by Domenic Priore


A native of San Diego, California, Ron's professional experience began as a member of the Hitmakers, playing at such legendary spots as the Masque in Los Angeles. Shortly afterward he enlisted his next-door neighbor Steve Potterf as America's Answer To Brian Jones, and the Crawdaddys were born.


That combo produced two LPs, an EP and a single that are still in print and available on Voxx Records. Crawdaddy alumni includes the late Dan McClain (who became Country Dick Montana of the Beat Farmers), Mojo Nixon (a two week stint is a two week stint!) and Mike Stax, who moved to San Diego from the British Isles just to be a Crawdaddy (Mike later formed the Tell Tale Hearts and the Loons).


Once the Crawdaddys ground to a halt, Ron joined forces with Carl Rusk of the Mystery Machine (see Battle Of The Garages Vol. III, Voxx Records) and Tom Ward of the Gravedigger V to form an outstanding group called The Black Diamonds who somehow effectively cross the Everly Brothers with the Remains. They still play around San Francisco when the mood strikes. Considering all that's spawned from his path, it's possible to credit Mr. Silva with "inventing" San Diego as a pre-B.S. Rock & Roll town.


But we wouldn't want to blame him for that.

---
---
---
Others who have been part of the Beatcombers line-up:

Norman Famous
Drums/Wind-Up Toys

Norman Famous plays drums for the Beatcombers. Norman likes to wind up toy robots and watch them race across the floor. He once drummed for the group El Sob and sometimes fronts his own band, the Backorders. Just before joining the Beatcombers, Norman was working on several projects that he had no intention of ever finishing. Norman insists that he is not Sparky Grinstead, although at this point probably no one believes him. Norman's web site, www.normanfamous.com is either revealing or confusing, depending on who you are and what you want to know. Norman likes to wind up toy robots and watch them race across the floor.

---
Glenn Sadin
Electric Rythm Guitar/Vocal

Glenn hails from Pennsylvania where he was a member of a mod/pop trio The Seen along with Doug Edmunds, of Gladhands fame. The Seen are best known for their song "Jealous Girl," which appeared on the 1984 Voxx LP, "Battle of the Garages Volume II." Their 1986 Red Dog LP, "Under the Sun/In the Rain," garnered many enthusiastic reviews both in the United States and Europe, and was compared favorably to the music of the Zombies and Love.


Glenn got tired of the Amish and gave Philly the finger, stuck out his thumb on interstate 80 and headed west until he ran out of road. That landed him in San Francisco where hooked up with Ron Silva in March of 98 to form The Berkeley Squires. That band came to an abrupt halt when they let a girl into the ranks, displacing all their testosterone and leaving flacid and deflated egos.

---
Steve Faine
Electric Bass Guitar/Vocal

Steves music career began with the San Francisco Indie pop band the Stimmies in the early 90s. They played to ravenous audiences and recorded only one record PET that garnered national college radio play. From there he moved on to play with the mod/punk combo Decal Prior to his becoming a Beatcomber he served as a member of the ever charming beat/punk combo the Hi-Fives. Having traveled globally with these mates hes earned a reputation for being an international lover... of food and drink.

---
Jym
Drums

A Bay Area native and spawned from the same town as the Baytovens Jym is the drummer of the ever popular Lookout recording group the Mr. T Experience who've released fine edgy pop music over the past few years. Often compared - a little unfairly - to 'Green Day' by the press. He also plays his cocktail kit in the Specs, a duet that has garnered much attention in the local coffee-house scene .

---
Gary Gutfeld
Drums

Gary, plays drums

---